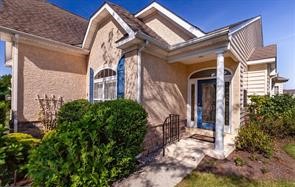 My wife and I have known Richard Hopkinson for what seems like forever. We were neighbors who shared an enthusiasm for gardening, and naturally we turned to him when it came to looking for another home and selling our current one. The thing is, that process started fifteen years ago! Family circumstances intervened, and we were forced to put our own real estate goals on the back burner for a long, long time. Gardening is a process that requires patience, adaptability, and a broad perspective, and Richard cultivated us in the same way as clients. We knew that he would be there for us when the time to act arrived.


Once we were in a position to look for a new home, Richard shifted into high gear. When we decided that a home in a 55-plus community would best meet our needs, he presented an array of property suggestions that made the search process less daunting. When we located a great property, the owners had taken it off the market, he persuaded them to sell it to us. To these sellers he exhibited the same patience and concern that he brought to the table with my wife and me, and I'm convinced that it made all the difference in their ultimate decision to sell. He cultivated an excellent relationship with the sellers' agent, and together they fostered a comfortable transition in the lives of two families. Richard proved a phenomenal resource in all aspects of real estate, knowing every one we needed in the entire process… it came down to Richard took care of everything! For example: when it came to the home inspection, making insightful suggestions that would never have occurred to us about stucco, drainage, and similar conditions that he noticed in the property we purchased. As a result, we were able to address some costly damage issues that the sellers agreed to re-mediate prior to settlement. Speaking of which, Richard engineered a settlement gathering that was more of a party than an intimidating string of signatures and legalities. Buyers and sellers had a great time, and the day could not have been more pleasant.


Now we're about to enter phase two, the preparation, pricing, and marketing of our old property – another potentially daunting process. However, we trust that Richard will shepherd us through this undertaking with the same concern and expertise that he demonstrated the first time around. We're glad to have him in our corner.
— Philip and Dianne Smith, Buyer Clients